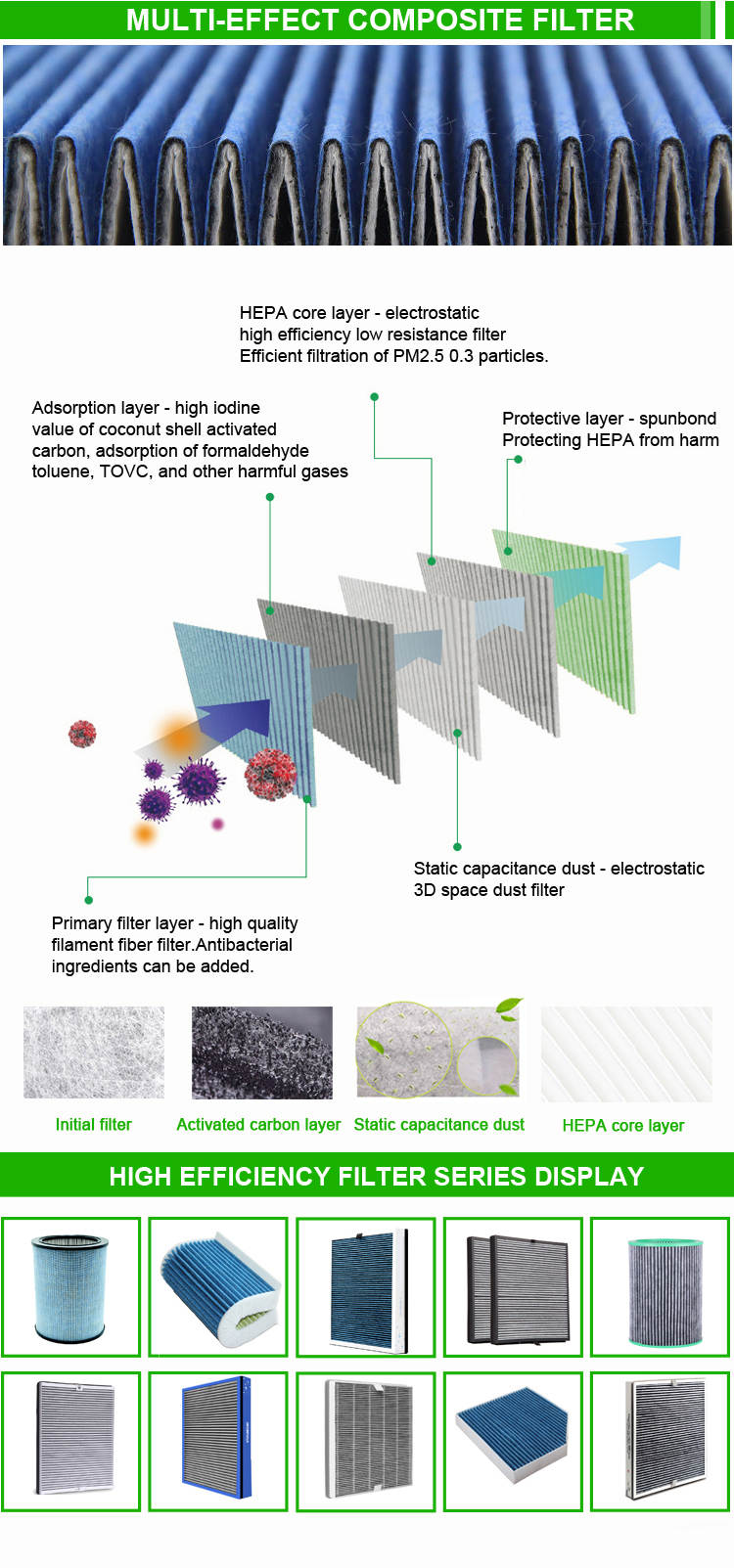 Lian run your filter customization expert, Customizable production purifiers, fresh air, cars, Industrial filters, etc. a wide variety of products Can be customized, Process maturity Leading equipment, Focus on filtering Carefully created, Production and sales service quality, HEPA Core Layer - Static High efficiency low resistance filter Efficient filtration of PM2.5, 0.3μm particles. Adsorption layer - high iodine Coconut shell activation value Carbon, adsorption of formaldehyde Toluene, TOVC and other harmful gases Protective layer - spunbond Protect HEPA from injury. Main filter layer - high quality Filament fiber filter. Antibacterial agents Ingredients can be added. Static capacitance dust - static 3D space dust filter. Initial filter, activated carbon layer, electrostatic capacitance dust, HEPA core layer. High efficiency filter series display. Early effect filter that filters out dust, pollen and hair in the air to improve Indoor air quality, large particle pollen allergen hair Early strainer series show, activated carbon filter High quality activated carbon can be used, Can effectively remove formaldehyde, Toluene, TOVC, odor or use of harmful gases Catalyst removes harmful gases high quality Activated carbon, catalyst, filtration of harmful gases Activated carbon and efficacy filter display High efficiency filter series display Electrostatic dust removal efficiency layer High efficiency low resistance composite melt blown Effectively filters lung particles and other particles up to 0.3 microns High efficiency and low resistance Folding distance can custom made Laser positioning is uniform And very beautiful Environmentally friendly hot melt The adhesive is healthy, non-toxic and tasteless High efficiency filter series display car filter car air filter BYD BYD air filter
Hebei Lianrun auto parts Co., Ltd. is located in Hebei Qinghe is the hometown of Wu Song, close to The Beijing-Kowloon railway, Qingyin high speed, 308 national road, 106 national road, and the transportation is convenient throughout the country.It is a professional company that develops, sells and serves air filtration products and rubber and plastic products.Our company has obtained the national high-tech enterprise certification in 2021, and has 9 patent certificates, 32 domestic trademarks and 3 international trademarks.Our products have passed European CE certification, American EPA certification and ISO9001-2015 management system certification, and have independent import and export rights. Our company in a complete scientific quality management research and development system, has developed into a domestic filter products and rubber products backbone enterprises.
Our main products are HEPA filter,automotive filter, sealing strip,hose, swimming pool filter, construction machinery filter, vacuum cleaner filter, injection parts and so on.Products cover after-sales service and OEM market. Products are exported to Europe, America, Japan, South Korea, Malaysia, Singapore and other countries, good quality and after-sales service to win customers extensive support and praise.
We uphold the concept of customer service will never be outdated, in order to better serve customers, to meet customer products and market demand, in the field of air filtration, rubber and plastic products, our company has accelerated the pace of development and progress.We have conducted extensive and in-depth cooperation with a number of professional scientific research institutions, universities, as well as central enterprises and multinational groups.Every lianrun company will always keep in mind the concept of "scientific and technological innovation, brave to scale new heights, do better products and serve customers, and provide valuable services for users".Hebei Liangrun welcomes friends from all over the world to consult, visit guidance.